Hi Everyone,
Let's please welcome Linda Deleon to the blog today. She has her short story in Southern Haunts 2 out now from Seventh Star Press.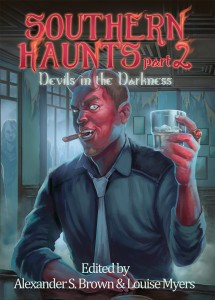 DEDILESS was my first attempt in writing a short story. All I had ever written up to that point were novels. Honestly, I did not think I could do it. With heaping amounts of encouragement from Alexander S Brown and my husband, Rene, I started forming ideas of demons in my dark, twisted and already haunted mind. The hardest part was deciding on which demon to write about. There are so many to choose from.
Blues music started in Mississippi and Robert Johnson started the Blues. The legend is that Robert Johnson sold his soul to the devil by the way of the crossroads demon in the delta in the early 1930's. His life was one of struggle and hardship. As is my usual, I wrote DEDILESS around historical fact around my warped imagination. One year, he could barely play the guitar and the next, he was a genius. This, along with the fact that his songs were about selling his soul to the devil and having Hell Hounds on chasing him, sparked legends that still live today. All demons need a name. Throughout history, this particular demon has only been known by the name of the Crossroads Demon.
That was not good enough. I needed to give him a name with character and a distinctive personality. My husband, Rene, came up with the name DEDILESS. He said he did not know where it came from. I took the name and ran with it. My mind thinks simply, so I broke it down to DEAD ONE LESS… DEDILESS. I HAD IT!
The main character, Chad, was taken from a friend of mine who is an ER nurse from Texas. He is a great guy with an even greater personality. One night, I made the remark that I was going to write him into a story so I could kill him. He thought I was joking. He will be forever immortalized in DEDILESS. New Orleans is one of my favorite cities. The rich history and folklore give rise to stories like mine since its beginning. It is a place where anyone that is a little different, such as myself, can feel at home and welcomed by the living and the dead. It is an area that you will not be judged for not following the politically correct norms that are dictated by today's society.
I had never ventured out from my writing of my beloved vampires such as VEIL OF TIME and FALL INTO DARKNESS. They had always been my comfort zone. DEDILESS taught me that there was more out there. Vampires, witches and ghosts with always come first, but now I can include demons among those that surround me in my darkest hours.
Maybe there is more in the darkness. We will see. Believe that I will find it. When I do, I will bring it to you in more stories that are sure to come.
Amazon Links for Southern Haunts: Devils in the Darkness
Print Version
http://www.amazon.com/Southern-Haunts-Darkness-Alexander-Brown/dp/193792954X
Kindle Version
http://www.amazon.com/Southern-Haunts-Darkness-Alexander-Brown-ebook/dp/B00IZ6OMIW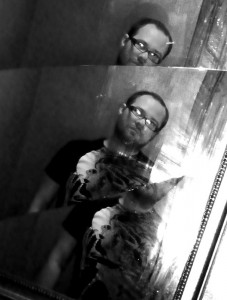 About the Editors:
Alexander S. Brown: Alexander S. Brown is a Mississippi author who was published in 2008 with his first book, Traumatized. Reviews for this short story collection were so favorable that it will be released as a special edition. Brown is currently one of the co-editors/coordinators with the Southern Haunts Anthologies published by Seventh Star Press. His horror novel, Syrenthia Falls is represented by Dark Oak Press. He is also the author of multiple young adult steampunk stories found in the following anthologies Dreams of Steam Vol 2 & 4, Clockwork Spells and Magical Bells, and Capes and Clockworks. Look out for his controversial piece, "The Last Lamb" found in the anthology, Luna's Children.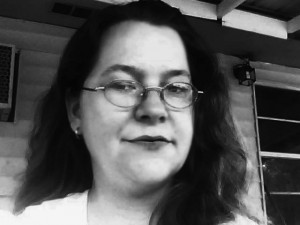 About the Editors:
Louise Myers: Louise Myers was born in New Orleans. During her teenage years, she was uprooted from everything she knew and was replanted in Mississippi. Though the transition was difficult, she is grateful for this change. She says this because she knows that both places are a world all to their own. She is the wife of a wonderful husband and mother of three beautiful children, as well as the proud parent of a spoiled mutt. She was assistant editor for Southern Haunts: Spirits That Walk Among Us and was proud to be part of The Southern Haunts Series once again. She is a beta reader, book doctor, editor, and author. Though this is her first story in print, she has been weaving tales for many years. With the gentle, yet firm, shove from a very special person, she has decided to dive into the world of print. She has many thoughts on several topics she'd like to write, mostly involving ghost stories.
Book Synopsis Southern Haunts Devils in the Darkness:
From the fiery abyss of the underworld comes 20 hellish tales from the south and southwest. Within these charred pages are stories that will introduce you to the many demons that stay hidden but are always nearby… 20 authors provide stories of possessed people, objects, houses, highways, and the devil's favorite playground - the forest. Dare to meet Deidless, a demon who is a buyer of souls. Discover what kind of demons men can summon. Read of battles between good and evil. Learn of ancient artifacts and stones that crave sacrifice. Finally, become acquainted with legions of evil. Again, we invite you, sit back, dim the lights, and prepare yourself to meet the devils in the darkness. Southern Haunts: Devils in the Darkness is the next installment in the exciting anthology series that began with Southern Haunts: Spirits That Walk Among Us.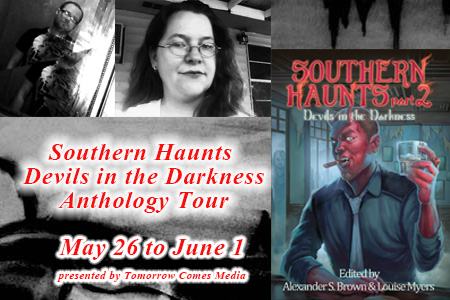 Anthology and Editor Links:
Facebook:
https://www.facebook.com/pages/Southern-Haunts/417536915003428
Twitter:
@AlexanderSBrown
@louisemyers197
Tour Schedule and Activities
May 26
I Smell Sheep
Guest Post
May 26
Novel-ties
Review
May 27
Deal Sharing Aunt
Guest Post
May 28
Armand Rosamilia
Guest Post
May 28
Book in the Bag
Interview
May 29
Spellbindings
Guest Post
May 29
Bees Knees Reviews
Guest Post
May 30
Beauty in Ruins
Guest Post
May 31
Vampires, Witches and Me Oh My!
Guest Post
May 31
Sheila Deeth Blog
Guest Post